The star-studded production of All About Eve has received mixed reviews from critics, with one writer suggesting it may be "a little bloodless" and another calling it "boring".
Gillian Anderson and Lily James appear in director Ivo van Hove's retelling of the classic Hollywood film, which originally starred Bette Davis as the ageing movie star and Anne Baxter as her calculating usurper.
The show debuted at London's Noel Coward Theatre on Tuesday. Its mix of traditional stage acting and filmed sequences left some reviewers cold, though the performances of Anderson and James garnered generally positive comments.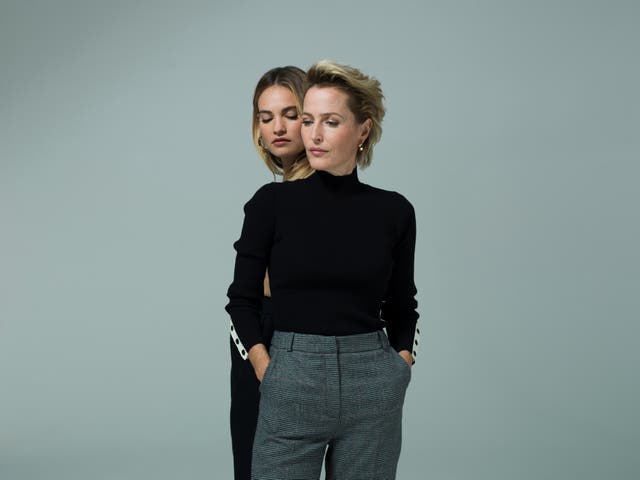 The Daily Mail's Quentin Letts gave the production four stars but asked if it may be a "little bloodless", adding: "I'm not sure I cared remotely about the characters."
He wrote: "This is a memorable production. It is done with tremendous panache and it confirms Miss James as a top-notch stage performer, and Miss Anderson as box-office gold. But they should have called it All About Ivo."
In The Times, Dominic Maxwell gave the show a two-star rating, warning theatregoers to, "Fasten your seatbelts, it's going to be a boring night".
The mixture of stage acting and filmed sequences "drains the energy from the action", the review states, and concludes: "This is what theatre should not be: a paler, pricier version of going to the cinema."
Writing in The Daily Telegraph, Dominic Cavendish expressed disappointment with the production, and said on the whole it is, "Just About OK".
His three-star review compared the performances of Anderson and James unfavourably against those of Davis and Baxter.
The Guardian's reviewer, Michael Billington, said the play "reeks of chic", praising the performances of Monica Dolan as Karen and Stanley Townsend as critic Addison DeWitt.
However, he was equivocal in his praise and concluded: "The show remains a clever, mixed-media hybrid that never achieves the emotional pull of first-rate drama."
All About Eve will run at the Noel Coward Theatre until May 11 2019